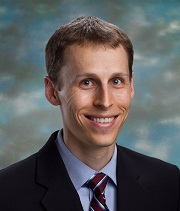 Department of Economics
University of Virginia
248 McCormick Rd
Charlottesville, VA 22903
Tel: 434-326-0919
leelockwood@virginia.edu
UVa profile page
Lee Lockwood is an Assistant Professor of Economics at the University of Virginia Department of Economics and a Faculty Research Fellow at the National Bureau of Economic Research (NBER). His main research fields are public finance and labor economics, with a special interest in the effects of government social insurance programs on behavior and welfare.

Professor Lockwood holds a PhD in economics from the University of Chicago, an MSc in economics from the London School of Economics, and a BS in industrial engineering and economics from Northwestern University. He was previously an assistant professor of economics at Northwestern and a postdoctoral fellow in health and aging at the NBER.
---
---
RESEARCH

Published and Forthcoming Articles

Targeting with In-Kind Transfers: Evidence from Medicaid Home Care
September 2018 (with Ethan Lieber)
Forthcoming, American Economic Review
NBER working paper #24267

Incidental Bequests and the Choice to Self-Insure Late-Life Risks
September 2018
American Economic Review, 108(9): 2513-2550.
NBER working paper #20745

Government Old-Age Support and Labor Supply: Evidence from the Old Age Assistance Program
August 2018 (with Daniel Fetter)
American Economic Review, 108(8): 2174-2211.
Featured in the NBER Digest, in the NBER Reporter, as the AEA Chart of the Week, and by the Institute for Policy Research
NBER working paper #22132

Bequest Motives and the Annuity Puzzle
April 2012
Review of Economic Dynamics, 15(2): 226-243.

Geographic Variation in Health Care: The Role of Private Markets.
Spring 2010 (with Tomas Philipson, Seth Seabury, Darius Lakdawalla, and Dana Goldman)
Brookings Papers on Economic Activity, 325-361.


Selected Work in Progress


The Risk of Owning vs. Renting Housing in Spatial Equilibrium
(with Scott Baker, Lorenz Kueng, and Pinchuan Ong)


The Intergenerational Incidence of Government Old-Age Support: Evidence from the Early Social Security Era
(with Daniel Fetter and Paul Mohnen)


---
Faculty Honor Roll, Northwestern Associated Student Government, 2015

ECON 4310 Economics of the Public Sector (advanced undergraduate)

ECON 8320 Public Economics II (graduate)